One of the most asked questions in our comments seems to be "Is Freshmac safe?" Since we are a security website and we perfectly understand the importance of this question, we installed and tested Freshmac to determine whether the software lives up to its marketing, tag price, and if there are any shady practices it is involved in.
A quick aword: This review is intended to be completely objective. If you feel the author is biased, please write back to us in our contact form and inform us which part of the review you feel needs to be changed.
We will leave the comments section below open to anyone who wishes to leave an honest opinion, but if you intend to say the software is "the best" or "the worst" we will ask for proof of purchase. This is simply to make sure our readers can get an unbiased opinion. The last thing you or me want is for the people behind Freshmac or their competitors to start writing here.
Q: Is Freshmac safe?
A: Freshmac is a safe anti-malware program that can remove malware, adware and all other varieties of threats. It will also prevent new ones from installing themselves and act as a cleaner for your Mac.
You can download Freshmac from its official website.
BUT! Here is a very big caveat – this is a new software. It works perfectly right now, but we never know for how long the developers can keep up the quality. But still, our verdict is that Freshmac is not only safe to use, but your Mac can benefit substantially from it. As of the time we are writing this review there is almost no negative user feedback on Freshmac – and the negative feedback that does exist seems to focus solely on the price, which feels like these people hoping to get a free meal out of it. Mac optimizer/cleaners generally have a fishy reputation, for one simple reason: many  believe that free software can achieve the same results as a paid one.
Let me be loud and clear on this – paid software will always be head and shoulders above any free one you can find. Free software tend to be made by enthusiasts or companies that want to popularize through it their other services. In both cases, this means a very limited amount of resources (read: money) was invested in the project and the overall quality and support suffer from that.
Paid programs on the other hand are a "professional" class of software – everything negative about them starts and ends with the fact that you need to take money out of your wallet to use them. Yes, part of the profits are just that, profits for whoever created the software, but the same means that these people are more motivated to make the software better. This is when paid software truly begins to shine. In the case of Freshmac, my honest opinion on the matter as a security specialist is that if you value your machine and want to keep it secured, clean and fast – try Freshmac or another program of this type. If you regret the decision you can always cancel your subscription. The reason I recommend this to you is that nowadays more and more malware is targeting Mac devices and these figures will just keep growing.
My personal experience with Freshmac 
The first thing I did with Freshmac was run it on my old Macbook Air 2014 (the link is to apple's website) just to see if it does anything at all. First impressions definitely raised my eyebrows a bit. As you can see on the screenshot below, according to Freshmac, my mac has 4474 issues on hand. To my knowledge, if there truly were that many issues, my mac would be garbage by now – so one negative strike here for overestimating the problems.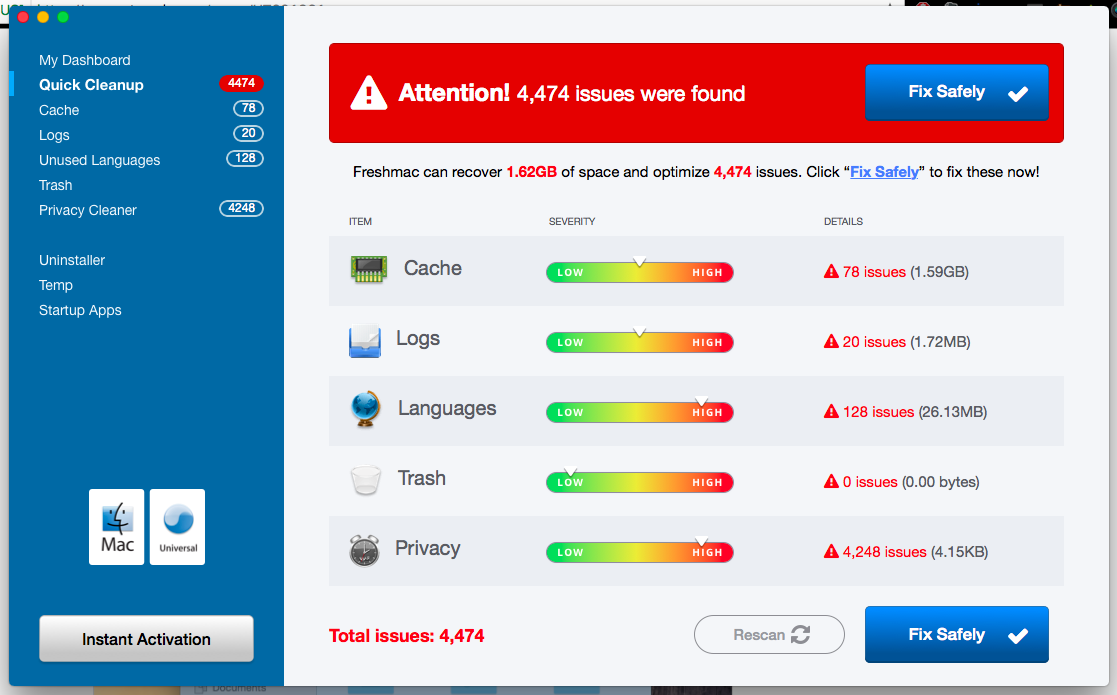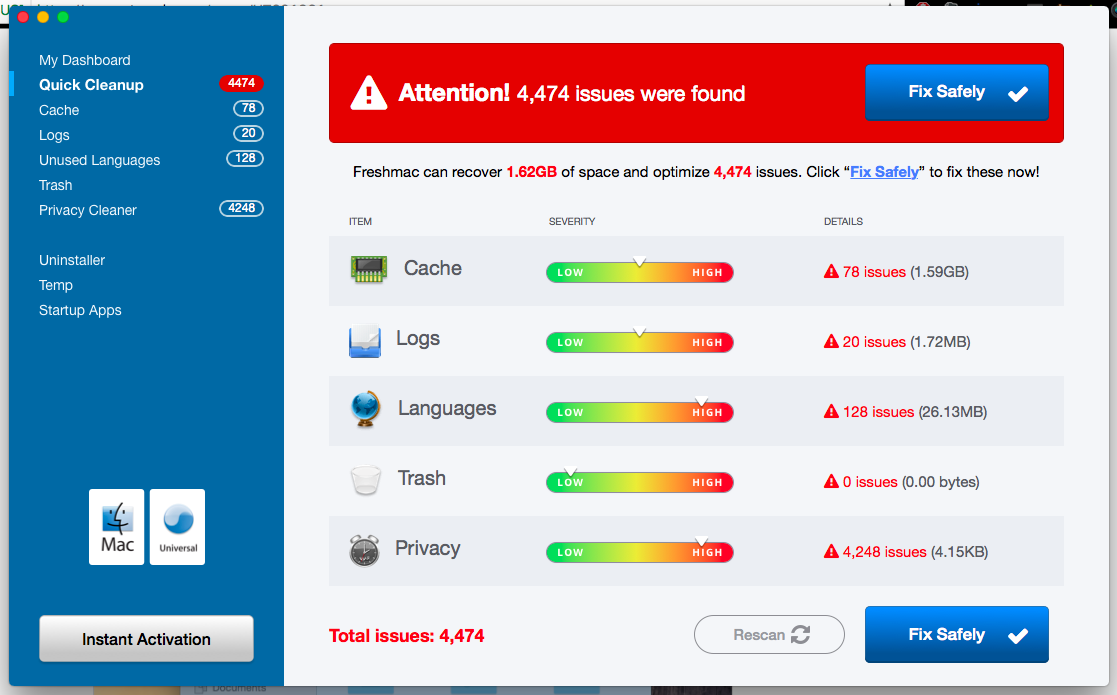 A closer look at the scan log reveals that 4248 of the 4474 issues were so-called "privacy" issues, which is to say many cookies and other browser-related stuff – the entirety of these 4000 issues resulted in a total of 4kb, which is vastly inferior to the other ones it found. Another mac I tested on had a whopping 66613 issues – again, about 99% of them being privacy issues.
A lot of programs do this. They count every single tracking cookie as a virus or a problem that needs to be fixed immediately. Without any context or explanation you are left without the full picture. What happens in reality here is that these "issues" are simply cookies that allow Google and other websites to offer you targeted ads – yes, the annoying kind, but hardly an "issue." This is a marketing strategy that can be very misleading if you don't understand what you are looking at.
Here is the good news:
There was a malware called Safe Finder on the second machine I tested (the one with 63000 issues). If you do a quick google search you will find that it is a huge issue that's been plaguing users for years. The malware redirects users to shady websites and offers them unsafe advertisements – and Freshmac absolutely took care of it in a matter of seconds. The problem did not reoccur after. I am highly confident Freshmac is the best Mac cleaner if you are battling malware. I've been using a Mac for 8 years and I pretty much know how to clean it myself, but I was very pleasantly surprised to find out that it sped up at least 25%. I don't have the necessary tool set to estimate exactly how much, but it was absolutely a noticeable difference. 
So, bottom line: despite confusing marketing, Freshmac performs well on all fronts and is definitely money well-spent.
If you liked my review of Freshmac, please like and share it!