Some Settings Are Managed By Your Organization Fix
Edmend Stewart, 3 years ago
0
4 min

read
1382
Some Settings Are Managed By Your Organization
If you have recently started receiving an error message in your computer that reads "Some Settings Are Managed By Your Organization" or something similar on your personal computer that is in no way connected to any company network, then you may probably want to read the current write-up as here, we will explain to our visitors what the cause behind this error is and how to troubleshoot it so that it doesn't appear again.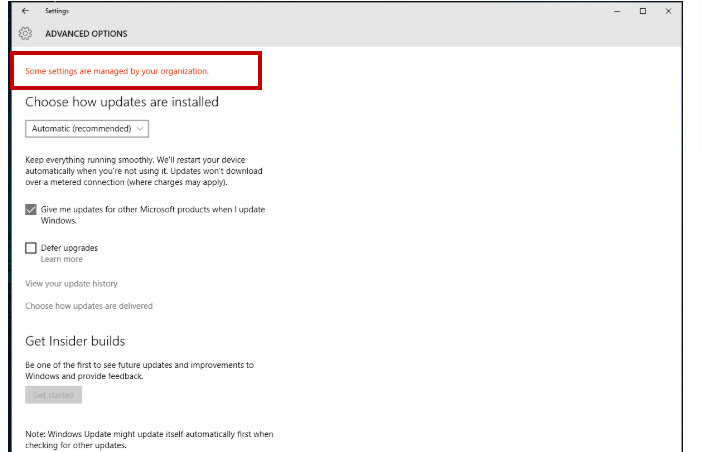 This error is a Windows 10 error and in most cases, it starts appearing right after the user's computer has been upgraded from an older version of Windows (such as Windows 7 and 8) to Windows 10. During the upgrade to Windows 10, the user is supposed to choose a setting about the ownership of the computer and there are two options there: the user or an organization. If the second option gets chosen (either manually or automatically), many of the settings in the OS after Windows 10 gets installed would be restricted and you wouldn't be able to access them or modify them. This is because, the access to those settings would be reserved to a non-existent company which basically makes it impossible to modify them. However, improper Windows 10 installation settings is only one of the possible reasons for this error. In some cases, everything may have been set properly during the Win 10 installation and yet you may still be getting the "Some Settings Are Managed By Your Organization" error. In this case, the reason behind it would most probably be some bug in the system that needs to be fixed. Because of this, there may be several different alternative ways of fixing this problem depending on what is the actual cause behind it. Below, we will give you a several methods with instructions on how to take care of this issue and make this error message go away for good.
Method 1: Edit the Group Policy settings
Note: Not all Windows 10 user have access to the Group Policy Editor. In order to access it, you will need to be using Windows 10 Enterprise or Pro. If your Win 10 version is less advanced, you won't be able to use this method.
Our first suggestion on how to deal with the "Some Settings Are Managed By Your Organization" error requires of you to access the Group Policy Editor in your computer and modify the settings there. Here is how to do that:
Press and hold the

Winkey

and while holding it press

R

. In the search box that will appear, type

gpedit.msc

and then hit the

Enter button.



From the left panel, find the following folder:

Computer Configuration/Administrative Templates/Windows Components/Data Collection and Preview Builds

.

Inside the central panel, look for an option labeled

Allow Telemetry

and double-click on it to open it.

Select the

Enable

option.

Open the drop-down menu below

Options

and click on

3-Full

.

Click on the

OK

button to save the newly made changes.

See if the error is gone and if it isn't, proceed to the next fixing method.
Method 2: "Turn of all balloon notifications" option from the Group Policy settings
This other method that could help you solve this issue once again needs you to use your Group Policy Settings. Here's what needs to be done:
Once again, open the Group Policy Editor in the same way you did in the previous method.

Now, in the left panel, navigate to this folder: User Configuration/Administrative Templates/Start Menu and Taskbar.



In the main panel in the middle, find an option labeled

Turn off all balloon notifications

and double click on it.

Set this option to

Disabled

and click on the

OK button to confirm and save the changes. The "Some Settings Are Managed By Your Organization" error should no longer appear on your screen when you try to modify a certain OS setting.


Note: For best results, we advise you to use both of the methods suggested above and complete all of the steps in them.
Method 3: Reinstall Windows 10
Although this is certainly not the most attractive solution method, you can still go for it if it is really important for you to get rid of the "Some Settings Are Managed By Your Organization" error and nothing else seems to work. Just make sure that when you are going through the process of reinstalling Windows 10 and you get to the point where you need to select the owner of the computer you select that you are the owner and not your company. This should allow you to have access to all settings in your OS once the installation is finished and you shouldn't get the "Some Settings Are Managed By Your Organization" error again.
Related posts