Books in Brief: Where Good Ideas Come From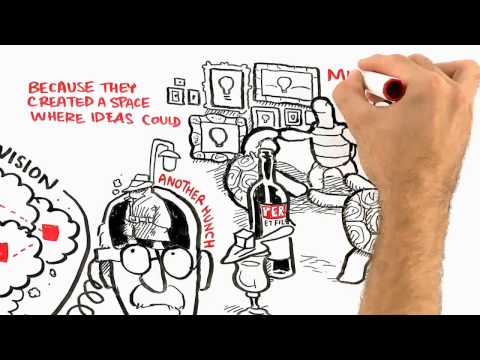 Here at Dowser, we talk a lot about how to change the world. But sometimes the beleaguered amongst us (meaning me) survey the logistics of social change and marvel at the ingenuity of problem solvers, wondering: "No, but really — how did you get that idea?"
Luckily, Steven Johnson's latest, equally blunt book — Where Good Ideas Come From — offers several theories about the kinds of environments that could give birth to the next generation of social innovations. Johnson traces the evolution of ideas through an array of stories — from Freud to Google — and identifies seven patterns behind idea generation. He argues that the best ideas evolve with time and draw from a network of contributors in open-source markets "where ideas flow in unregulated channels."
The most successful environments mimic natural ecosystems—coral reefs and rain forests, where inhabitants share their abundant resources for mutual benefit. Butterfly fish feed on coral; tech startups clamor for office space in Twitter's building. Johnson refers to this environment as The Fourth Quadrant, an element he explores in the last chapter, with a nice visual aid that elevates his argument from anecdote to data. And while much of the book does focus on the umbrella environment necessary for innovation, it also includes details that can be integrated in your daily life, such as:
Take long walks
Keep an idea file—a long list of disorganized notes and sparks of inspiration. Two years from now, you may have the structure to nurture a hunch that, for whatever reason, doesn't quite fit today
Read outside your discipline
Live in a city
Johnson's light writing style makes the book easy to digest. It makes you think about how to seek and share ideas, how to run a company, and how you could change the world. Anyone with the slightest nugget of an idea should pick it up.