Top 5 graduation speeches for changemakers
Break out the champagne and mortarboards—it's graduation time!
A century and a half ago, abolitionist Robert Purvis said, "A graduation ceremony is an event where the commencement speaker tells thousands of students dressed in identical caps and gowns that 'individuality' is the key to success." Irony notwithstanding, today we ranked the top five graduation speeches from the past five years that encapsulate what we're trying to achieve at Dowser.
5. Muhammad Yunus, 2010: "Not too many people are giving honorary degrees to bankers anymore."
"Who's credit-worthy now?" quipped Nobel Peace Laureate Muhammad Yunus to the graduating class at Duke University last week. He had just told the story of Grameen America, an offshoot of Bangladesh's Grameen Bank that launched in Queens, NY two years ago—just before the financial crisis hit. At a time when big banks were reeling from irresponsible mortgage lending, Grameen America was successfully extending loans to poor borrowers without collateral. Yunus challenged the Duke grads to use their ingenuity and privilege to unleash the creativity of others.
You are the luckiest graduating class because you are graduating from Duke University. And you are the brightest because you are the graduates from Duke University. [laughter] But remember all the millions of young people all around the world who are not as lucky as you are. They're as bright as you are, most of them. They're as creative as anyone anywhere. But they never had the opportunity to even go to school.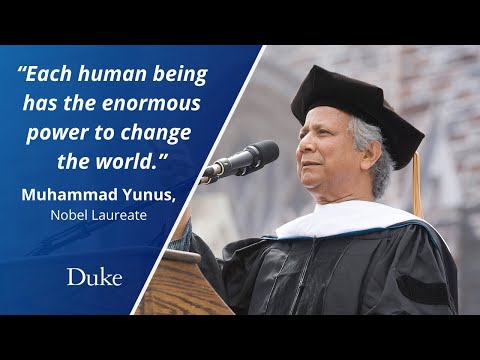 4. Bill Gates, 2007: "Don't let complexity stop you."
Harvard's most famous dropout told the university's Class of 2007 that his one big regret about the years he spent at Harvard was that he left with "no real awareness of the awful inequities in the world." He implored the soon-to-be graduates to use their knowledge and privilege to combat these inequities.
All of us here in this Yard, at one time or another, have seen human tragedies that broke our hearts, and yet we did nothing–not because we didn't care, but because we didn't know what to do. If we had known how to help, we would have acted. The barrier to change is not too little caring; it is too much complexity. To turn caring into action, we need to see a problem, see a solution, and see the impact. But complexity blocks all three steps.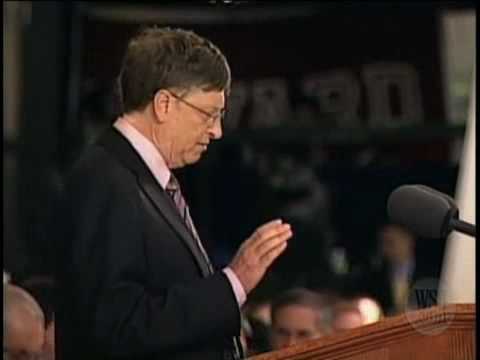 3. Ellen Degeneres, 2009: "Don't give advice, it will come back and bite you in the ass."
New Orleans native Degeneres avoided inspirational clichés when addressing the 2007 "Katrina Class" at Tulane University. Instead, she cracked jokes about how hung over the soon-to-be grads looked, shared life lessons learned during the death of a girlfriend and the cancellation of her TV show, then danced off the stage to Lady Gaga.
I got my own sitcom, and that was very successful…And I thought, 'What if they find out I'm gay? Then they'll never watch,' and this was a long time ago, this was when we just had white presidents…And I thought, 'What's the worst that could happen? I can lose my career.' I did. I lost my career. The show was canceled after six years, without even telling me. I read it in the paper. The phone didn't ring for three years. I had no offers. Nobody wanted to touch me at all. Yet, I was getting letters from kids that almost committed suicide, but didn't, because of what I did. And I realized that I had a purpose.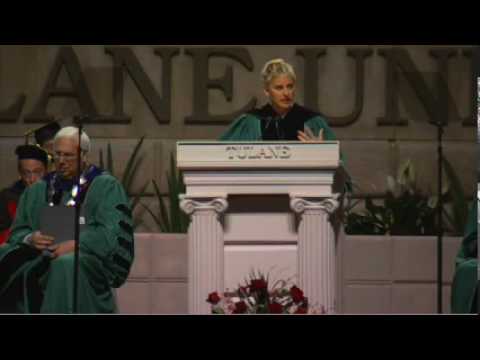 2. Steve Jobs, 2005: "Stay Hungry. Stay Foolish."
Steve Jobs took a quick jaunt across town from Apple HQ in Mountain View, California to Stanford University to speak to the Class of 2005. He shared candidly about his own life's peaks and valleys.
When I was 17, I read a quote that went something like: 'If you live each day as if it was your last, someday you'll most certainly be right.' It made an impression on me, and since then, for the past 33 years, I have looked in the mirror every morning and asked myself: 'If today were the last day of my life, would I want to do what I am about to do today?' And whenever the answer has been 'No' for too many days in a row, I know I need to change something.

Remembering that I'll be dead soon is the most important tool I've ever encountered to help me make the big choices in life. Because almost everything — all external expectations, all pride, all fear of embarrassment or failure – these things just fall away in the face of death, leaving only what is truly important. Remembering that you are going to die is the best way I know to avoid the trap of thinking you have something to lose. You are already naked. There is no reason not to follow your heart.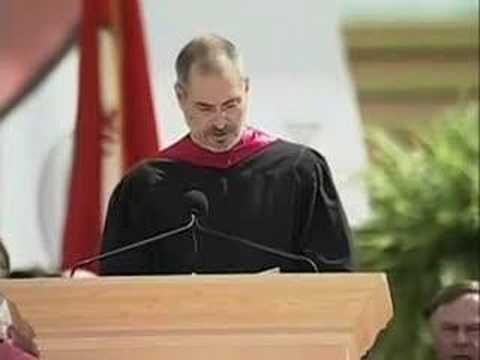 1. Paul Hawken, 2009: "You are brilliant and the earth is hiring."
Last May, serial social entrepreneur and author Paul Hawken encouraged the University of Portland's Class of 2009 to pursue careers of impact. He struck a delicate balance between being hard-boiled and quixotic, sobering and inspirational. And impressively, he worked in references to Buckminster Fuller, rappers, mitosis and "that unbelievably cute person you are dating."
There is invisible writing on the back of the diploma you will receive, and in case you didn't bring lemon juice to decode it, I can tell you what it says: 'You are brilliant, and the earth is hiring.' The earth couldn't afford to send recruiters or limos to your school. It sent you rain, sunsets, ripe cherries, night blooming jasmine, and that unbelievably cute person you are dating. Take the hint. And here's the deal: Forget that this task of planet-saving is not possible in the time required. Don't be put off by people who know what is not possible. Do what needs to be done, and check to see if it was impossible only after you are done.
What do you think of these speeches? What remarkable ones did we leave out? Let us know below.
Image 1: YouthCast
Image 2: Abpulp