Mark Hanis on what comes after the Sudanese referendum
On January 9, Southern Sudan will, in all likelihood, vote for independence from the government in Khartoum. But forty years of civil war between the north and south, broken treaties, and a wealth of oil reserves stand in the way of a peaceful transition. Secretary of State Hillary Clinton called the referendum a ticking time bomb of enormous consequence.
Recognizing the need for vigilant diplomacy, Sudan Now—a coalition of eight leading anti-genocide and human rights advocacy organizations—has been pressuring the upper echelons of the U.S. government to protect Sudanese civilians and they've gone all out: over 60 events nationwide. Quarter-page ads in The New York Times, The Washington Post and Politico. A rally in DC. Floods of phone calls to the Obama administration. Help from George Clooney. Meetings with Deputy Ambassadors and members of the National Security Council.
The pressure will continue until the referendum on Sunday. But then what? Mark Hanis, founder of the Genocide Intervention Network (GI-Net), sat down with Dowser to explain what happens after the vote and how to help.
Dowser: Thanks for sitting down with us. Let's fast-forward. It's January 10th; the referendum passed smoothly. Does that guarantee the violence is over? What are the best next steps?
Hanis: That's a great question. No one knows. And it depends on lots of variables.
Like what?
Well, let's say, best-case scenario, in July — which is the date set to allow the storm to calm — everything is going smoothly. First variable: there's a border region called Abyei that's heavily militarized, very contentious. It's supposed to have a referendum vote on January 9th, as well, but it seems very unlikely that will happen. So we have to make sure there's still engagement, pressure, consequences, incentives, disincentives.
Two, there's — again, this is if everything goes smoothly, which is very unlikely — citizenship and migration issues. Over 60,000 Southern Sudanese still live in the north. But there's no Southern Sudanese passport. There's no formal government. So are they allowed to live there? Do they need visas? How do they start applying? Who gets them? Will they have dual citizenship? They also have to sort out oil sharing. The original Comprehensive Peace Agreement, in 2005, called for a fifty-fifty split. But should that last?
There's also security. We've got two peacekeeping forces. And Darfur is still an issue — in fact, violence is increasing in Darfur because all of the attention has been on South Sudan. We know the administration has a short-list of high-level diplomats, but who will be deployed? And when? Will they have all the resources needed to be successful? Plus, not everyone in South Sudan on the same page. There's a lot of tension. We need contingency plans in case there's violence amongst the people.
There needs to be a lot of diplomacy, a lot of conflict resolution and prevention. All Sudanese, not just southerners should decide how the government works; it's our goal to make sure they're not targeted for who they are. If they can peacefully figure out how many visas they need between the north and the south, then OK.
So I'm a normal citizen….
Yes.
And from the perspective of a smart, normal citizen, this situation seems insurmountable.
Well, we give people all these variables just to provide a wider picture into how it happens. It's like healthcare. The process is complex — is it going to this committee or that committee? Is it going to conference? There's all these terms along the way, but at the end of the day, people are either for it or against it.
And yes, it is complicated, but the solution is pretty simple: we need to make sure, as citizens, that we pressure our government to ensure that civilians are protected.
Traditionally, though, governments take forever to pinpoint human rights violations. Why?
There are a lot of reasons, but the main answer is that there isn't enough domestic political pressure. They can get away with it. They can't get away with it when we look at other issues: abortion, gun rights, the environment. There are political groups that hold policy makers accountable.
In the realm of human rights, there isn't a lot of grassroots, domestic advocacy. Most of it is either throwing aid at the operation — Oxfam, Save The Children, Doctors Without Borders — or exposing and reporting what's happening — Human Rights Watch, Amnesty International, International Crisis Group. But rhetoric is not enough.
So what's the solution?
Well, we're working to build this really powerful, domestic political constituency. Advocacy isn't new, but no one's really done so with a national, aggressive campaign in the human rights sector. So we use a lot of the tools that people use on gun rights, abortion, the environment.
Our activists write letters, make phone calls, pressure their congressmen. We train leaders—and again, leadership training happens, but not in the human rights arena. Most Americans have no idea how a bill becomes a law, so we tell them. Then they know how to influence that process.

Tell me about some online tools you've found to be effective in your advocacy.
I mean, we've able to reach an enormous amount of people. Save Darfur, who we merged with, they have a list of over 800,000 people involved. Like, to put a stamp on an envelope and hope someone will read it? Forget it. So to be able to tap into that network on email, Facebook, Twitter, YouTube has been phenomenal.
However, online is not enough. We use technology beyond the Internet, so, for example, we have a hotline called 1-800-Genocide. Callers enter their zip code, and our system-technology identifies who their congressmen are, and gives them the opportunity to call the White House. We give them a specific talking point for that policy maker, and then connect them for free. It takes two minutes or less.
So make it as easy as possible.
As easy as ordering pizza.
Do you guys have one program that's really stood out in terms of impact?
Our economic advocacy work has been really interesting. We started with divestments, with the Harvard Corporation — largest private endowment in the world — and divested $4.4 million from PetroChina. We wanted them to be neither complicit, nor complacent. They were more complicit, because their revenue was going to military hardware, but we wanted them to use their leverage in Sudan to help the victims.
So we got Harvard on board, and then 60 colleges followed suit, and then, we wrote legislation in California, and then we passed that legislation in 27 states. Twelve companies have shifted their behavior because of this economic advocacy campaign.
And what's the impetus behind your current re-branding operation?
Well, we just merged with Save Darfur. They're probably the best-known brand on Darfur advocacy, but the mandate of our new organization is to stop genocide wherever it's been happening. So that name is kind of limiting.
If someone else is launching a social enterprise, do you think it's important to sit down and think about things like branding or just do it?
I would go Goldilocks on it. Be mindful of it, but don't spend all your time doing it. You do need to pay some attention to branding because like, on the extreme side, a lot of places tend to create acronyms based on names. So Genocide Intervention Network—GI Net versus GIN. Or someone told me about Coalition of Women.
COW. That's the worst.
Right. So those people obviously didn't think about it. Did you read about Duncan Hines' new campaign?

No.
They've made these cupcakes that sing hip-hop. They're vanilla, and when they start singing, they turn into chocolate cupcakes.
Wow.
How did no one notice that, right? My college roommate's dad created a think-tank in Prague, and he originally wanted to call it the Prague Institute of Security Studies. I think he turned it into The Institute of Strategic Studies in Prague
PISS.
So yes, I think branding is important, especially if you create something like PISS or COW.
Words of wisdom. I guess we'll end on that note.
[Laughs] Good note.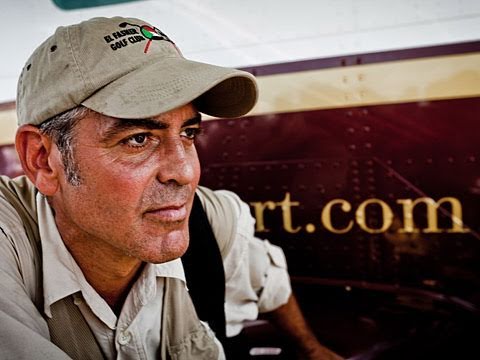 This interview has been edited and condensed.
Photo: Genocide Intervention Network