Interview: Eric Schwarz on how to transform education with 'citizen teachers'
Eric Schwarz wants Americans to re-imagine how and when learning happens. In 1995, he founded Citizen Schools, a network of afterschool programs that enlists adult volunteers to provide hands-on apprenticeships to middle school students from disadvantaged communities. Citizen Schools currently works with 37 schools in seven states. Schwarz explains how professionals like engineers, jewelers, gardeners or even morticians help low-income students discover new possibilities and vistas for their lives.
Dowser: What's the basic idea behind Citizen Schools?
Schwarz: On graduation day, wealthy kids are far more prepared to achieve than low-income kids. This gap has a lot more to do with what kids learn outside of school than inside. So we're making the learning that takes place outside of school better.
How?
For most low-income kids, school just isn't working—many of the older kids are bored to tears in the classroom. Middle-schoolers learn quickly and deeply from real-world, hands-on projects. So I thought, why not create an afterschool program centered on learning by doing, through apprenticeships? I thought this could keep kids engaged long enough to hook them for life.
So you're saying, 'Hey, let's look outside the classroom.'
Right. Kids need more knowledge and more skills than ever before to earn a middle-class income, but it just isn't possible to cram more learning into the school day. Kids are only in school 20% of the time they're awake—why not fill some of the other 80% with creative learning?
How does your model work?
We develop a second shift of educators, citizen teachers. We invite local entrepreneurs, professionals, specialists, to teach a few hours a week, for 10 weeks. At the end of each session, the kids present what they've learned or created.
Can you share some examples?
Our kids are learning from chefs, jewelers, gardeners, architects, clothing designers. We've had mock trials with real judges; kids have built video games and robots with help from Google engineers; one group of kids conducted research on experiences that shaped the success of 200 CEOs, then presented the findings at a conference at Harvard University.
I heard that you've even had kids work with a mortician.
We were skeptical at first, but this funeral director was very persistent. He said, 'We're not so good at dealing with teenagers when they lose a family member. We'd like to work with kids to help us figure this out.' I said, 'Perfect.'
Talk about community involvement! But how are they doing academically?
An independent study documented that our kids perform better than their peers on six of the seven top indicators of success including math and English grades, attendance and graduation rates, and the level of high school course work they take on.
Do you remember when you knew your idea had real social change potential?
I had just finished City Year here in Boston, where you volunteer as a mentor to help kids stay in school.  I knew I wanted to teach, but not full-time. I have a journalism background and I thought I'd like to teach kids how to put together a newspaper. I pitched the idea to a principal in Dorchester. She said, 'OK, try it.' When that came together I knew I was on to something.
So that was like a test run.
It was. I took 10 kids and we published an eight-page tabloid newspaper.  Every kid sold ads, every kid wrote articles. That last week we piled into a van and drove to Manhattan to see their newspaper fly off this web-based printing press. They were totally hooked. They were published journalists, with bylines.
Citizen Schools is active in 37 schools in seven states. Over 4,000 citizens have taught classes. How intentional were you about growing beyond Boston?
Pretty intentional. We set out to create a model that could influence the field. Once we had evidence that it worked, more schools wanted to partner with us. Now policymakers are investing in extended day learning. The late Senator Kennedy introduced legislation for a half-billion-dollar national pilot program.
Best advice you ever got?
Don't be satisfied with something that gets on the front page of the Boston Globe or smiles on the faces of 100 kids.  Do something that really moves the numbers big in education.
Can you recommend a good book for someone who wants to make a living making change?
Disrupting Class: How Disruptive Innovation Will Change the Way the World Learns, by Clayton Christensen. It's not just about education, it's about the value of disrupting the old way things are done, to make way for the new.
This interview was edited and condensed.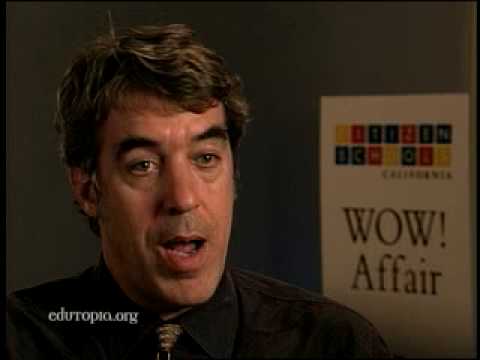 Photo: Julie Furbush for Dowser