Interview: Darell Hammond on building playgrounds that transform communities (1,750 and counting…)
The day Darell Hammond read a Washington Post story about two children who had suffocated in a car because they had nowhere else to play, he knew he had reached the point of no return. Hammond had worked as a community organizer in Chicago's South Side, where he witnessed the desperate need for play spaces in low-income neighborhoods.  In 1995, he founded KaBOOM!, an organization that has brought tens of thousands of volunteers together—including Michelle Obama—to build over 1,750 playgrounds across the country.
How did Hammond transform KaBOOM! from an idea into a nationwide organization? And what's up with the name?  We caught up with Hammond in KaBOOM!'s office in Washington, D.C.
Dowser: Before we get to KaBOOM!, let's talk about you. What personal experiences, if any, led you to where you are today?
Hammond: When I was 4 years old my father left my mother. Shortly thereafter, my mother had a nervous breakdown and couldn't care for us. My seven siblings and I went to this group home west of Chicago called Mooseheart, founded by the men and women of the Moose Lodges across the country.
What was that like?
I spent 14 years there and actually had a pretty idyllic childhood. We were afforded great programs by the millions of volunteers and donations that came in from Moose members all across the country.
How did the generosity of others impact your own actions?
I took it upon myself to advocate for the kids who always got in trouble, both to try to lift them up and get other people off their backs.  I think that's what has stayed with me—that sense of justice, the sense that everybody needs an equal footing. KaBOOM! is simply an outgrowth of my obligation to give back to society.
When did you develop the idea for KaBOOM!?
I dropped out, flunked out, got kicked out of college—depending on what day of the week it is, they'll tell you a different story. Then, I went to work for the Chicago Park District as a community organizer focusing on the city's south side.  The issues are so big in so many communities that people don't know where to start.
Building a playground was a definable project on a definable timeline that could be successful.  Success creates more success; it creates more voice, opportunity and social capital.
What was it like founding a new organization?
When you're in the middle of it, you don't know what the hell you're doing. You didn't know what you didn't know, so you didn't know to be afraid. I think that unbridled enthusiasm and idealism will drive people to do amazing things.
Where'd you get the name 'KaBOOM!'?
I wanted to call it the Institute for Community Building.  Our co-founder, Dawn Hutchison, came up with the name KaBOOM! because our organization is about an explosion of hope, possibility, and opportunity. She had heard a kid say it. I started answering the phone by saying, 'KaBOOM!' Hearing people's reactions. It was joyful.  That's what we want to create—joy.
Where was the first playground site you built?
It was in a middle-to-upper-income Chicago community, with hundreds of volunteers. It was great, and I thought that it could be a valuable business model in low-income communities as well.
Was there resistance to the idea at the time?
I was the on-the-grounds organizer for the first playground in 1995, in a low-income housing development in Columbus, Ohio. The Residents Association Committee didn't want it to be built; they said nobody in the community wanted the playground.
They told us this on Friday afternoon, and the city council meeting about the playground was on Monday morning. We went door-to-door over the weekend in the neighborhood and said, 'Your Residents Association Committee is going to block this playground. Do you want a playground?' 'Yeah,' people said. 'Well then, you'd better show up to the council meeting.' We had 300 people show up.  It was a big statement.
What a moment!
It taught me an important lesson: if we don't participate in the process, then we can't blame our leaders for making the decisions they make. Within that week all the leaders in that Residents Association resigned.  They recognized that they no longer represented the community, and the community recognized that you can't adjudicate your responsibility to someone else and then complain about the process.
What were some of the obstacles you faced in KaBOOM!'s early stages?
I was 23 years old and inexperienced at the time. I was not Ivy League educated, and there was sort of a clique of Ivy League social entrepreneurs. People didn't see KaBOOM! as part of that movement, so we were swimming upstream.
We picked a name that didn't say what we do; we picked a logo that doesn't explain or show what we do. Parks and Rec departments, schools, and municipalities didn't want to see volunteers build something because of liability issues. We had a tremendous amount of road blocks that we just methodically busted through.
You let children help design the playgrounds they will use. What do they ask for?
The kids are reflecting the reality of what they see.  When you're in a low-income area, sometimes there are kids who ask what a playground is. Sometimes they don't draw green spaces; they don't draw the sun; they draw McDonald's. They're reflecting their experience, and sometimes it's our job to push them beyond that and expose them to things that they wouldn't be naturally exposed to.
How do you do that?
Show them what other people have. All our project managers carry a big duffel bag of photos of other playgrounds.
Also, bring out their creativity. Some project managers might sit older kids back-to-back and ask one kid to explain to the other kid their dream playground while the other kid's gotta draw it and then vice versa.  You may ask younger kids what their favorite sounds are, what their favorite animals are. You're directing a little bit, but at the same time you're allowing the creativity to flow.
What's been one of your most validating experiences with KaBOOM?
We've built 132 playgrounds to date on the Gulf Coast—more playgrounds than they had before Hurricanes Katrina and Rita. Better playgrounds too. After Katrina, I heard so many times that playgrounds weren't what people needed—people needed housing, water, schools re-opened.
I remember six or seven weeks after the third playground that we built down in the Gulf, we got a note from a resident there. She told us about how her 9-year-old son who hadn't talked since the storm was finally speaking again after going to the playground for six weeks. They thought that they were going to move away because it was detrimental to his development—the playground helped them stay longer.
People would drive two and three hours to visit our first Gulf Coast playground several times a week, because it gave them a sense of normalcy.
If hurricane survivors see children's play as a top priority, then this work must really be touching on a fundamental human need.
The type of commitment we saw in the Gulf from communities and volunteers has got to be in every community everywhere.
This interview was edited and condensed.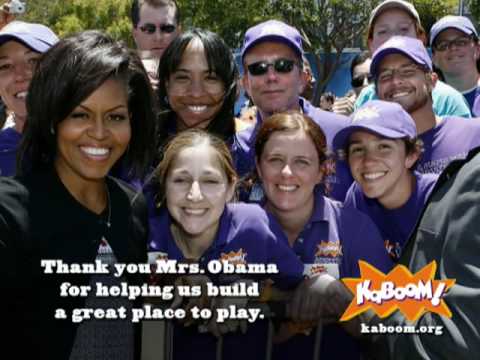 Photo: Julie Furbush for Dowser