"I will not go to the bathroom," says Matt Damon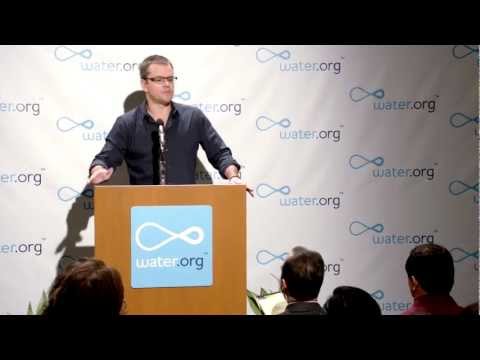 Matt Damon, co-founder of Water.org, held a press conference (a mock press conference) where he announced that he will not use the toilet.  Why?  To protest the fact that 2.5 billion people lack access to a toilet or basic sanitation.  So, he will be going on a "toilet strike."
Damon pointed out that "780 Million people, that's twice the population of the United States, lack access to clean water." Thus, "in protest of this global tragedy, until this issue is resolved, until everyone has access to clean water and sanitation… I will not go to the bathroom," he declared.
He goes on to explain that the toilet is the primary invention to save lives and yet today more people have cell phones than toilets.
Damon is working with a group of YouTube creators, including ShayCarl, EpicLloyd, WheezyWaiter, LivePrudeGirls, Smosh, Stan Lee, Lisa Schwartz, and John Elerick – all of them collaborating on Damon's new "Strike with Me" campaign.
What are Gary White's thoughts on this (humorous but poignant) strike?
"Matt's strike announcement and the vlogger videos are designed to start an online conversation that can engage people across the digital landscape, and we hope people will share the video, and respond to it with their own thoughts…" said the founder and CEO of Water.org said.
And YouTube is one board.  Jessica Mason, YouTube for Good Manager, is in favor of technology for social impact:
"Water.org's latest public awareness campaign shows how nonprofits can use video to raise
awareness about important issues." -
There's also a website site up to complement Damon's plea, which individuals can engage in: http://strikewithme.org