How to do Sustainability Right: Andy Savitz
by Divya Srinivasan
Quaker Oats, Gatorade, and Tropicana share one thing in common – they're Pepsi Co's attempt to sell nutritious products, not fizzy colas.  It could be classified as part of their sustainability efforts.   Successful or not?  You decide.
Like PepsiCo, other big companies are transforming their products or launching new ones in the name of "sustainability."  We are now in an era where the big corporates want to tackle hard-hitting issues of society – obesity, public health, environmental degradation.  And they want to make social impact.  But are they good at it?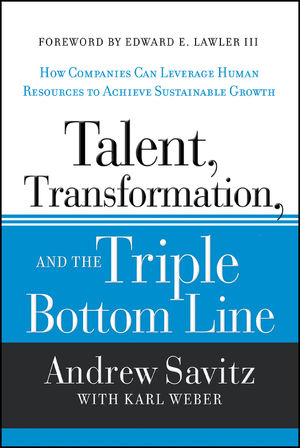 Not always, says Andy Savitz, the author of a new book Talent Transformation and The Triple . He speaks with Dowser about how companies can link HR and sustainability more concretely.

Why is talent strategy critical to the execution of a sustainability initiative?Bottom Line.  He speaks with Dowser about how companies can link HR and sustainability more concretely.
I'll give you the example of an environmental engineering firm that wanted to pursue hazardous waste site clean-up in China and developed an entire business plan around this idea. They made a number of plans to execute on the plan, but did not understand the landscape of talent available. What they failed to realize was that there were neither enough qualified engineers in China nor engineers from the U.S. who would move to China to work on the project. A failure to consult HR on this vision resulted in a firm that never quite launched due to inadequate talent.
Talent aside, how can a company's culture help carry out the firm's vision?   
Culture, which has to do with what employees believe, is integral to the execution of a firm's objectives.
Let's take the example of BP and AEP. Both companies were committed to improving safety. They made actionable progress on this vision by creating robust value statements and changes in policy and programs. However, BP failed to engage HR to understand how safety improvement might actually fly in the face of some widely held employee beliefs.
AEP recognized that it had to transform some underlying beliefs that conflicted with its goal to reduce accidents, such as "Safety is a personal matter" and "Injuries are inevitable in our work."  AEP also recognized the importance of showing how change could be implemented in ensuring that change happened.
With the support of a unified, safety-oriented culture, AEP was able to execute on its Zero Harm project, unlike BP, whose oppositional subcultures within the rigs and plants led to minimal transformation.
By using HR to create a whole-body transformation of the firm, AEP was able to create a blueprint for integrating HR into sustainability initiatives.
What other measures can a company take to ensure that employees are on board with a vision laid out by the management of the firm?
Compensation and evaluation are important frameworks for companies to align strategy with performance.
I've found that failure to reward for good performance and a consistent acceptance of poor results can lead to disillusioned employees and a failure to achieve benchmarks for success.
BP awarded its pipeline operating company 66 percent of the maximum possible safety bonus in 2010 the year of the Deepwater Horizon catastrophe. Accounting for 25 percent of the total yearly bonus in 2010, the payouts demonstrated that financial compensation did not reflect performance and that BP needed to realign compensation with a commitment to safety and sustainability.
Furthermore, treating your employees well and developing a positive employer brand are another option for companies looking to match performance and company vision.
Wegmans Food Market has made employee wages and benefits a critical aspect of their business strategy. Although the grocery chain has only 79 stores around the country, Wegmans has annual sales of over $5.6 billion and ranks at the top of the list in terms of operating margins and sales volume per square foot of store space. Always rated one of the best places to work, Wegmans gains the loyalty of its employees by providing a higher compensation, generous insurance benefits, and tuition assistance among other programs. Employees are among the best-trained and deeply committed to Wegman's success, providing virtually unparalleled customer service which is how the company has succeeded in the competition with much larger super market chains.
We've talked about how HR can help sustainability, but why should HR embrace sustainability as an avenue for advancing HR goals?
Sustainability can advance HR strategy and give more definition to HR applications. Currently, HR is often pigeon-holed as a compliance and transactional function. With a broader, more strategic outlook, HR can help advance the cultural, talent, and employee-dependent sustainability visions of a firm. An overlap between human capital, business objectives and sustainability will optimize a company's chances for success in a world that is increasingly resource constrained.