Defining Solution Journalism: It's about real news, not feel-good stories
This article is the latest in a series that dissects news stories to make the case for high-quality "solution journalism."
Everybody loves a feel-good story. That's why media outlets have a special section for them – like the section of the zoo where you can pet the gentle animals.
There's CNN Heroes, Huffington Post's "Greatest Person Of The Day," ABC News' "Person of The Week," and NBC Nightly News' "Make a Difference."
When editors decide they need to throw in a positive story to balance out the barrage of apocalyptic daily reports, they usually highlight someone doing something that seems, well, kind of nice. Beyond that, there's little critical thinking about whether the story really represents an effective or systematic way to address a problem. And too often it devolves into unadulterated hagiography — which destroys the legitimacy and credibility that we'd like solution journalism to have.
Exhibit A is TOMS Shoes, the successful company that popularized a buy-one, give-one business model (called one-for-one): for every pair of shoes TOMS sells, it gives one away to a person in a developing country. Last week, they expanded into eye-wear.
The mainstream media covers TOMS, like most charities, as if it's a self-evident good thing. It appears to be a well-run company, with a charismatic founder and a nice idea. It feels good to know that your consumption choice is helping someone. But the coverage is characterized by headlines like this: "TOMS Shoes: Would you go barefoot for a good cause?"
One wonders if the daily work of journalists has made them so prone to expect the worst in people, that, when faced with an attractive character doing something good, they drop their judgement and forget to ask whether the story they're covering is truly newsworthy. This is a problem: by focusing on good intentions, rather than results, the media sends a signal that it's enough to just try to help. In a feel-good story, the protagonist doesn't have to be innovative or even effective.
Consider this LA Times article, which only quotes TOMS founder Blake Mycoskie. This is common in such stories. It's not difficult to find development professionals who are critical of TOMS' one-for-one charity model. Sixty years of foreign aid have taught us that charity is frequently counter-productive; it can create economic disincentives for local communities. The most effective foreign aid generates long-term income opportunities at the local level. (You can check out this video for a two-minute summary of the arguments.)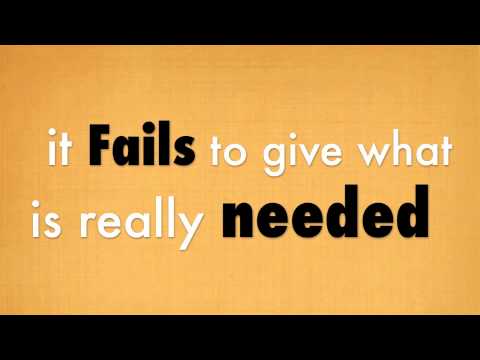 How to know what to believe? These are precisely the kind of questions a work of solution journalism needs to examine. And journalists won't ask those questions if they have it in their minds that they are writing a "good news" story, rather than a solution story.
It takes some investigation to get to the bottom of the TOMS story. You can find aid workers who want to use TOMS as a scapegoat for ineffective charity, and they have a point. But, of course, every idea has its critics. An examination of TOMS' Giving Report suggests that it's quite conscientious about its giving. It locates factories in Argentina, China and Ethiopia, creating jobs. It works with local organizations to ensure it's not stamping out local businesses. It gives in the United States, as well.
Journalists who write about companies like TOMS must be able to discern whether the program works; that means thinking about the model, not just the generosity of its customers or founder. TOMS one-for-one model can be seen as a variation on the corporate charity model – in which companies increase sales by appealing to consumers' interest in a cause — and then give away some of their profits. In this case, the donations are shoes and eye-wear.
I'm in favor of companies engaging in philanthropy, and have no beef with TOMS. But we have to remember that this is a well-trodden path–whether it's Pepsi supporting Save the Children or Philip Morris supporting the Metropolitan Museum. Is the one-for-one model a significant improvement on traditional corporate philanthropy? If so, how and why?
Ultimately, good solution journalism is like any other form of investigative journalism. It requires a bit of speculation, asking, as Jonathan Stray noted, "What If?" and, on the flip-side "What if not?"
Real solutions are complex. It takes extensive reporting to understand 1) if in fact a solution is working, 2) why it is working, and 3) what the broader implications are. I'm not sure why most journalists today think that investigative journalism is only about uncovering things like corruption and malfeasance. Problems are not the only things that cost the public because they are hidden.
Instead of celebrating charities, individuals and good intentions, journalists need to think critically about what they're covering–including TOMS. Does the model work? How does it compare to available alternatives? Where's the company data that, until now, TOMS hasn't released?
That's where the distinction comes between "good news" or CNN Heroes-type stories, and solution journalism. One is holiday fare, focusing on individual stories with emotional hooks; the other seeks to explain how social structures are evolving.
Solution stories are about how people adapt to changing conditions. That's not "good" news; that's knowledge that is necessary to understand, anticipate and shape the future.
---
Reactions: Comments, Tweets and Dialogue
Crafting a definition for Solution Journalism is an agile process. Every time we publish a post on the subject, we'll follow-up by highlighting poignant follow-up discussions.
Jason Pugatch published a related article in the Huffington Post on corporate philanthropy and the dangers of hagiography.